Black Point Fissures Hike: Slot canyons, Epic Views, & Volcanic Rocks
Black Point Fissures, is a geological wonder in Mono Lake, California. A hike to Black Point offers panoramic views of snow-capped Sierra Nevada mountains and the glistening waters of Mono Lake. Are you up for the adventure? This unique location in northern California is one to add to the bucket list.
On our recent excursion to Death Valley National Park, we decided to travel north and made a stop at Mono Lake. I was mesmerized by the ghost-like tufa towers that stood tall throughout the shimmering blue waters of Mono Lake.
We knew that this was a location that we had to see in person! When exploring things to do in Mono Lake, I discovered Black Point Fissures. A hike we knew would not be easy, but this hidden gem looked like it would be a memorable experience.
Related Content to Black Point Fissures
Mono Lake South Tufa, Hot Springs, & Slot Canyons: Must Visit!
Where is Black Point Fissures Hike
Black Point Fissures is located in the small town of Lee Vining, California. Also known as the Gateway to Yosemite because of its close proximity to the east entrance of Yosemite National Park.
The Black Point Fissures hike is one of many outdoor things to do in Mono Lake. A visit to Black Point is perfect for a morning hike or pit stop on your road trip to Yosemite or Mammoth Lakes.
How to Get to Black Point Fissures Parking Lot & Trail Head
To get to the Black Points parking lot, which is where the trail head it located, it is about a 20-minute drive down a dirt road, be prepared for a bumpy ride. There is a Cemetery Road turnoff at the north end of Mono Lake on HWY 395. You will need to follow the signs as you head around to the east side of Black Point.
You do not need 4 wheel drive car, but drive slowly, you will hit many bumps on the way. If you are short on time, make sure to budget in the extra 20 to 30 minutes it takes to get to the parking lot.
Need to Know Hike Details:
Location: Mono Lake, Lee Vining, CA
Parking Lot: 38°01'37.6″N 119°05'05.0″W
Distance Roundtrip: Approximately 1.8 miles
Time Spent at Black Point: 2 to 2.5 hours
Route Type: Out & Back
Elevation Gain: 498 ft
Fees: Free
Rated: Difficult on AllTrails. However, I would say moderate. It is a short hike.
Dogs: Read more below
Restrooms: None at trailhead
Map Mono Lake & Exploring The Mono Basin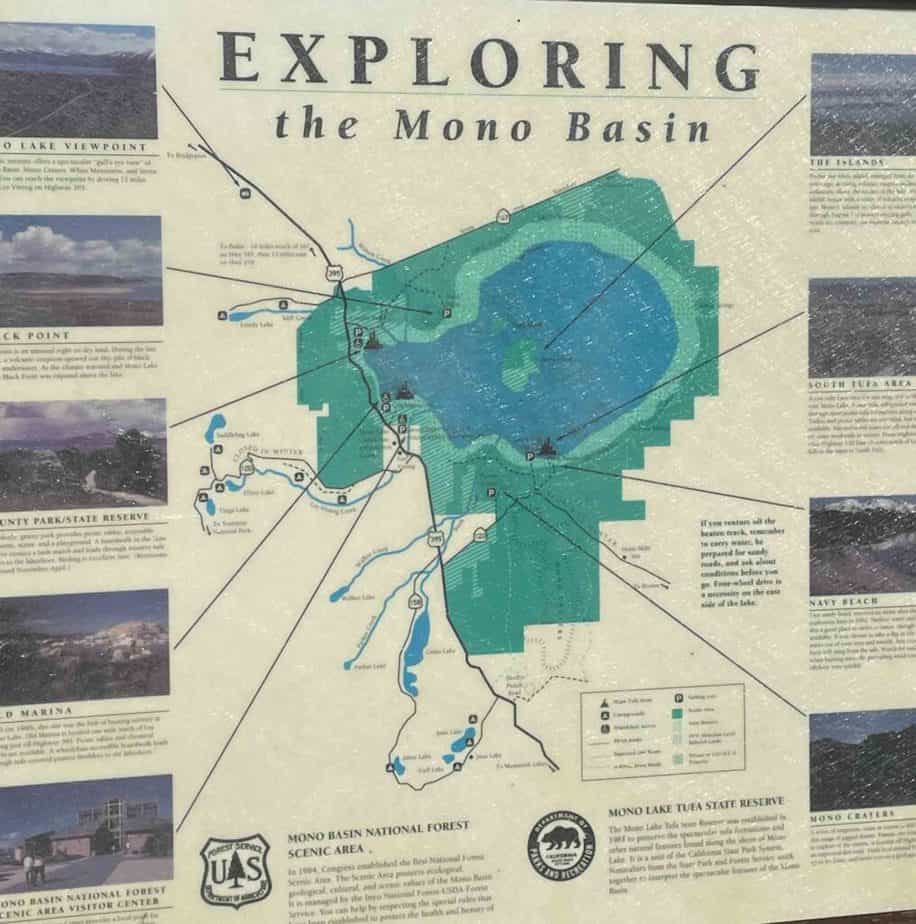 Black Point
Black point is a volcanic hill that sits on the north side of Mono Lake. It was formed during the last Ice Age by an underwater volcanic eruption. As a result, Mono Lake shrank in size, and Black Point was exposed above the lake.
Where to Find Black Point Fissures
Once you arrive at Black Point Fissures parking lot, finding the Fissures is a little tricky. To reach the fissures and the epic views I promised of Mono Lake, you will have to complete an uphill hike in the sand.
Also, did I mention it's an unmarked trail? At the Black Point trailhead there is only the parking lot, a simple map, and that's it. You can see some footsteps in the sand, however, the direction and trail is really up to to you! But, don't worry, it's all part of the adventure and it's not too difficult to navigate.
As you begin to walk the black sandy trail, you can see the brim of Black Point. As long as you hike towards the left of the peak, southwest, you will end up on top of the Black Fissures.
As you are hiking up this steep hill, do not be discouraged. You will work up a good sweat. I immediately started peeling off my layers of clothes as we began the incline, but the views as you get higher and higher up are so worth it.
We hiked at a pretty decent pace, and by no means are we experts, but it took us about 45 minutes to reach the top.
Once you Have Reached Black Point
When you finally hike to the top of Black Point, you will start to see some cracks in the ground beneath you. Stay to your left and watch your step. The fissures gradually grow larger and deeper in size.
Viewing and admiring each unique fissure from above is incredible, they range between 20 to 50 feet in depth. Climbing down and exploring the fissures and slot canyons by foot was our favorite part.
If you walk towards the epic landscape of the Sierra Nevada Mountains to the left of Black Point, you will find some rocks that you can easily climb down into the fissures. It may appear intimidating at first, but myself, my husband, and our golden retriever were all able to make it down with no problem at all.
Slot Canyons
Slot canyons are not as common to see in California as they are in different states such as Arizona and Utah, so this was my first time experiencing them in person.
The slot canyons have a variety of swirling patterns and encrustations on the walls. It was nice and cool once you slipped into the fissures, which felt refreshing after our uphill hike in the warm sun. They were narrow, but left enough room for us to walk around and explore.
Tips on Visiting Black Point Fissure
When I originally found this hike, there was not a ton of information I could find about the trail. Here are some tips that I wish I knew before hiking Black Point trail.
When is The Best Time to Visit Black Point
The weather is important to know when planning your hike to the Black Point Fissures. I recommend visiting in the spring or fall months because you are hiking under the blaring sun on black sand. However, if you choose to hike Black Point in the summer, I suggest going early in the morning to beat the afternoon heat.
No matter the time of year, make sure to pack lots of water and wear sunscreen. As I mentioned before, you are hiking up an incline or hot black sand, you do not want to get sun burnt or dehrydated during your hike.
What to Wear When Hiking Black Point Fissures
I highly suggest wearing pants or high socks because of the many small thorn bushes. You will want to wear proper hiking shoes for the fissures and slot canyons. Also, bring a change of socks because you will get lots of sand in your shoes.
Is Black Point Fissures Dog friendly
The trail is not marked dog friendly or not. We decided to bring our English Golden Retriever. If you are bringing your dog, there are a lot of thorn bushes that could injure their paws. Also, you are hiking on black sand. I would not have brought our dog on this hike in the middle of summer or on a hot day.
As we trekked up the hill, we created a safe trail for our dog to follow, and he had no issues with climbing down to the slot canyons. However, I would be nervous about bringing a smaller dog on this hike, but you know your dog's capabilities better than anyone.
Mono Lake
After your hike Black Point Fissures and witnessing those gorgeous views of the cobalt waters and tufa towers, you must get an upclose look of Mono Lake.
Pros and Cons of Visiting Black Point Trail
Pros of Visiting Black Point Fissures
Black Point Fissures was a unique hike, and we felt very accomplished after completing it. The views during our hiking experience were spectacular! We loved having the opportunity to explore some slot canyons in California. Another pro was that the hike felt very isolated. We did not come across a single person during our entire time at Black Point Fissures.
Cons of Visiting Black Point Fissures
The dirt road to get to Black Point was a con for us because we did not budget the extra driving time in our plans. Another con would be that there is no defined hiking trail. Even though we thought it was pretty easy to navigate without the hiking trail. I could how it could cause some hesitation for non-experienced hikers.
Where to Next?
You of course need to visit Mono Lake! Black Point Fissures hike is just one of the many things to do in the area. Stay tuned, I am writing a blog post on the top things to do in Mono Lake. Until then, discover these other awesome locations in northern California:
One Day in Death Valley: Do Not Make These 6 Mistakes
Pfeiffer Beach is More Than Just the Purple Sand Beach
The Best Day Trip to Half Moon Bay, California