Hot Springs Near Mono Lake: Visiting the Tufas & Hotsprings
Plan a trip to northern California and discover the hot springs near Mono Lake that boasts gorgeous views of the Sierra Nevada mountain range.
In addition to the incredible hot springs, explore the eerie Mono Lake tufa towers and hike Black Point Fissures. A unique hike in Mono Lake with gaping slot canyons, volcanic rock, and panoramic views of the ancient lake. Mono Lake is an out-of-this-world location and must-visit in northern California.
Related Content to Mono Lake, CA
Hike Black Point Fissures: Slot canyons, Epic Views, & Volcanic Rocks
One Day In Death Valley: Don't Make These 6 Mistakes
Where is Mono Lake, CA
Mono Lake is located in the small rural town, Lee Vining, California, along the Sierra Nevada Mountains. It is often referred to as the "Gateway to Yosemite National Park."
Located at the eastern gateway to Yosemite National Park, Yosemite Valley to Mono Lake is only a 12-mile drive. You could easily add on a day trip or night in Mono County when you are visiting Yosemite National Park.
Another nearby and popular location to Mono Lake is Mammoth Lakes. Mammoth Lakes is known for its outdoor adventures on the slopes, Mammoth Lakes Basin, and beautiful waterfalls. Mammoth Lakes to Mono Lake is about a 30-minute drive.
Both Yosemite and Mammoth Lakes are a great addition to add to your Mono Lake road trip. You will not be disappointed with a visit to either one of these incredible destinations.
Hot Springs Near Mono Lake
Travertine Hot Springs
Mono County may be named after Mono Lake. However, don't stop there. There are plenty of other activities and things to do near Mono Lake. One of our favorites was to visit Travertine Hot Springs, the beautiful hot springs near Mono Lake.
Travertine Hot Springs is located in Bridgeport, California, a small town about 30 minutes from Lee Vining (Mono Lake).
Travertine Hot Springs Directions: Take route 395 south of Bridgeport for half a mile. Turn left at Jack Sawyer Road, just before the Ranger Station. Follow Jack Sawyer road, along a dirt road for one mile.
The perfect spot to relax after an adventurous weekend of hiking or road tripping. Several little pools are tucked away in this isolated location. The thermal springs give you a front row and unobstructed view that overlooks the Sierra Mountains.
Visiting Travertine Hot Springs was my husband's favorite thing we did during our stay in Mono County. To be able to sit in a natural hot spring with breathtaking views felt like a once-in-a-lifetime experience. We felt so privileged to have had the opportunity to witness this natural wonder in person.
Quick Tips for Visiting Travertine Hot Springs:
Location: Travertine Hot springs Bridgeport, CA 93517
It is free to visit
Very easy to get to
They are popular so plan to arrive early in the morning
Clothing optional
Pack a towel
Test the water before jumping in. These are natural springs, and the temperature is not regulated.
Visiting Mono Lake
Mono County possesses diverse and epic landscapes that provide a unique and exhilarating experience. You will be thinking to yourself over and over again: I can't believe I am in California.
Just when I think I have seen all of California's wonders such as Yosemite, Death Valley, Pfeiffer Beach, I come across the Mono Lake south tufas and the stunning location of Mono County. I was immediately sold on the idea of visiting Mono Lake, solely based on the Tufas alone.
However, as I did more research and traveled to this location in person, I realized there is even more beauty hidden in this small slice of eastern California. I am so excited to share with you our itinerary to see the Mono Lake south tufas and the other incredible locations in Mono County.
Mono Lake History
Mono Lake formed over 1 million years ago and is one of the oldest lakes in North America. What makes this lake so special is that it retains water and does not have an outflow to other external bodies of water. As a result, the lake accumulates high levels of salt that cause the water to be alkaline.
Try a little taste! Mono Lake is 2.5 times saltier than the ocean and 100 times more alkaline. The water appears slippery and oily from the minerals.
As a result of Mono Lakes' alkaline water, there are no fish in the lake. Instead, you can find trillions of brine shrimp called Artemia Monica. They are a species of shrimp that are native to Mono Lake and live nowhere else on earth.
Can You Swim in Mono Lake
What came as a surprise to me was that it is entirely safe to swim in Mono Lake and it is a memorable experience. What makes a swim in Mono Lake so unique is Mono Lakes' mineral-rich water.
The high levels of salt cause your body to float at the surface of the water, similar to the Dead Sea. The easiest access to a swim in Mono Lake is at the Mono Lake south tufa shoreline.
Mono Lake Tufa Columns
On a visit to Mono Lake, you cannot help but admire the ghost-like rock formations sprouting from the surface of the lake. These are known as tufa towers. A geological wonder, the columns, and knobs of the tufa towers are formed by the carbonate-rich saltwater that creates limestone.
The tufa towers emerge above the cobalt blue waters of Mono Lake. The tufa is very fragile. You are not allowed to touch or walk on them.
How & Where to See the Mono Lake Tufas
Mono Lake is directly off of Highway 395, 13 miles east of Yosemite National Park, near the town of Lee Vining, California. There are three main areas from where you can view the tufa towers. However, if you are short on time or looking for the best spot to visit, the Mono Lake South Tufa Area is where you should go.
Mono Lake South Tufa Area
The Mono Lake South Tufa Area showcases the best tufa towers with spectacular views of Mono Lake. Right next to the parking lot you can find the South Tufa Trail, which is a one-mile and self-guided nature trail. It is an easy trail along a boardwalk leading you to the shoreline, where you can get up and close to look at the tufa towers.
Map of Mono Lake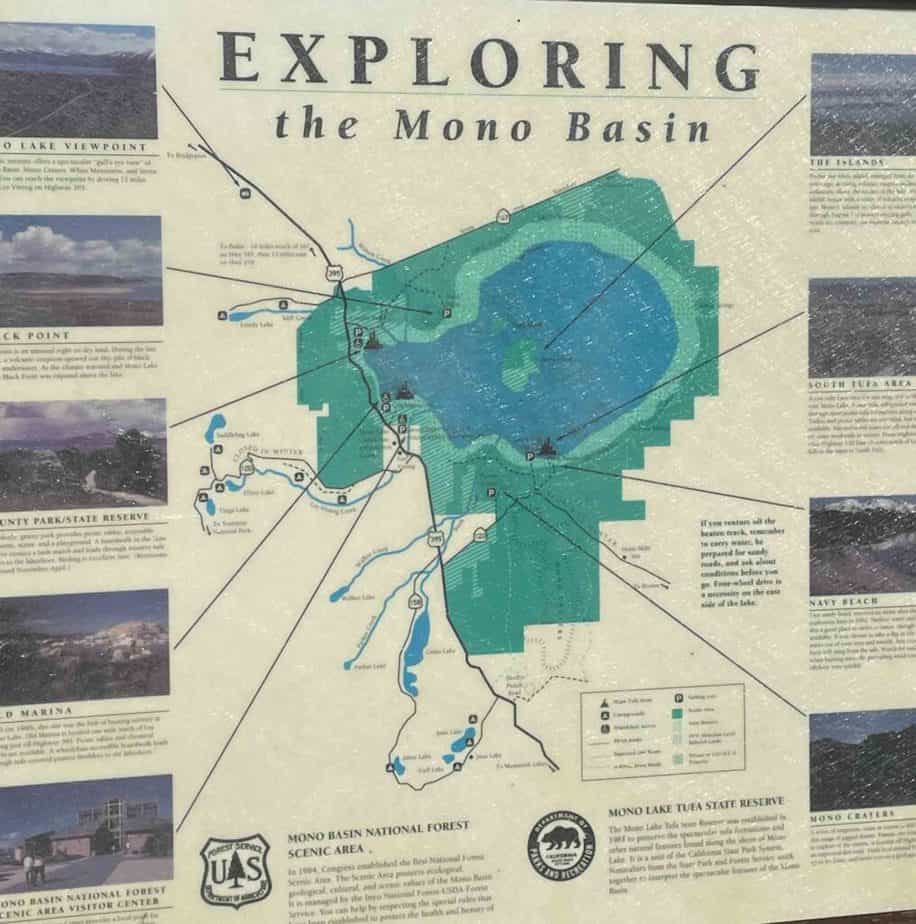 Mono Lake Kayak Rental
Explore the wonders and beauty of Mono Lake by kayak. Mono Lake Kayak rentals are located across from the Tioga Lodge and offer double and single kayak rental for $55/hr. To make reservations and for more information, you can find them here.
Quick Tips for Visiting Mono Lake South Tufa:
Mono Lake Hours: open from 7 am to 8 pm.
The South Tufa Area has the best views of the tufa towers
Wear layers because it gets chilly and windy down by the water
Dog-friendly location
Parking & restrooms are available
Mono Lake is also great for bird watching, swimming, boating, and hiking.
Mono Lake Hiking: Black Point Fissures
Discover slot canyons, epic views, and volcanic rock at Black Point Fissures! Black Point sits on the north side of Mono Lake and offers panoramic views of snow-capped Sierra Nevada mountains and the glistening waters of Mono Lake. It is about a 45-minute drive from Mono Lake South Tufa area.
Getting to Black Point Fissures is a little tricky. For example, it is an unmarked trail. However, I have a blog post that provides tips on how to easily visit Black Point.
To find the slot canyons, it is an uphill hike in black sand to Black Point. Black Point is a volcanic hill; formed during the last Ice Age by an underwater volcanic eruption. It is a challenging hike, but not impossible, and it is so worth it!
Once you have arrived at Black Point, you will be able to view the fissures from above. Watch your step. You will begin to see the large cracks in the earth beneath your feet. If you want to explore the slot canyons, you have to climb down some of the rocks and slip into the gaping fissures.
Quick Tips for Visiting Black Point Fissures:
The Black Point Fissures hike is approximately 1.8 miles
Wear pants or high socks because there are many thorn bushes
Bring a change of socks because you will get lots of sand in your shoes
Visit early in the day to beat the heat
Mono Lake Where to Stay
There are a couple of different options of locations you can stay when visiting Mono Lake. You can either book accommodations in the town of Lee Vining, where Mono Lake is located, June Lake, or Bridgeport. All of which are within 15 to 30 minutes of Mono Lake.
Lee Vining, CA
We personally had a difficult time finding accommodations in Lee Vining. There are only a couple of local hotels and most of them were booked during our trip. However, if we were able to stay in Lee Vining, I would have gone with Lake View Lodge.
Lake View Lodge is a no-frills, budget-friendly option for your stay in Mono Lake. It's in a great location, the hotel is located at the junction of Hwy 395 and Hwy 120 Tioga Pass. Also, you will only be a 15-minute drive from the Mono Lake south tufa area.
Why Stay at Lake View Lodge:
Great location to get to Mono Lake south tufas
Budget friendly
Located at the gateway to Yosemite (the eastern portal)
Onsite cafe
Picnic area & BBQ facilities
✅ Book your stay at the Lake View Lodge here
June Lake, CA
June Lake is often referred to as "The Switzerland Of California," for its beautiful landscapes. It is located south of Mono Lake towards Mammoth. June Lake is the perfect destination to stay in if you are planning on visiting Mammoth Lakes or Yosemite as well.
Double Eagle Resort and Spa is a great option if you are looking for accommodations with numerous amenities for a reasonable price.
Why Stay at Double Eagle Resort:
Lodging: cozy cabins that can sleep 2 to 12 people.
An onsite restaurant that serves breakfast, lunch, and dinner
Eagles Nest Saloon
Dog and pet friendly accommodations
Spa services including a fitness center, pool, and hot tubs
12 miles from the eastern entrance to Yosemite National Park
✅ Book your stay at the Double Eagle Resort and Spa here
Bridgeport, CA
During our trip to Mono Lake, we decided to book our accommodations in Bridgeport. Our reasoning for this was its close proximity to the Mono Lake hot springs and it was the direction of our home in Oakland. Bridgeport is about a 40-minute drive from Mono Lake.
During our stay in Bridgeport, we booked our stay at the Ruby Inn. The Ruby Inn is located on the main strip of restaurants and things to do in Bridgeport. It's a small town, with only a couple of options of places to eat. However, the best part about it was how close we were to the Travertine Hot Springs.
Why Stay at The Ruby Inn:
Budget friendly motel
6 minute drive to the Travertine Hot Springs
Dog friendly
Outdoor pool
✅ Book your stay at the Ruby Inn here
Is Mono Lake Dog Friendly?
If you have read any of my other posts, you will already know how much we love to bring our English Golden Retriever, Cash, on adventures with us. In most places that we travel, I am always looking for unique dog-friendly itineraries.
Mono Lake is dog-friendly! You can bring your furry best friend along with you to visit the show-stopping tufas of Mono Lake. Our dog is a big water dog, but I personally would not let my dog swim in Mono Lake. I was worried he would drink too much of the salty lake water haha.
I do not advise bringing your dog to Travertine Hot Springs. Unless you have a well-behaved dog that will sit beside you outside of the springs. Our dog Cash would go nuts if he wasn't allowed to jump in the pools with us.
Hiking Black Point Fissures is dependant on what type of dog you have and their hiking capabilities. I go into details about it in my Hiking Black Point Fissures post.
Pros & Cons of Visiting Mono County
Pros of Visiting Mono County
This is an easy one, the views!! We witnessed so many jaw-dropping views during our stay in Mono County. I just loved the mountain landscape and enjoyed seeing tufas for the first time.
Everything was also in close proximity to each other. I think the Travertine Hot Springs, a Hike at Black Point Fissures, and a visit to Mono Lake, could be done in one day.
Cons of Visiting Mono County
I do not think this is a huge con, but I suggest visiting this location as an add-on to a road trip if you are traveling through eastern California. Or if you are already visiting Yosemite or Mammoth. I would not recommend someone driving 3 hours from San Francisco to get here just for Mono Lake alone.
Where to Next in California
We visited the Mono Lake tufas during our road trip to Death Valley National Park. To say the least, it was an epic road trip!! Also, Mono Lake was an easy stop on our way back to northern California.
I have been living in California now for 6 years and love taking road trips to explore more of this incredible state. Looking for more California outdoor adventures? Go here!
In Conclusion: Where is Mono Lake CA: Guide to Visiting the Tufas & Hotsprings
After reading this post, you now know where Mono Lake, CA is and why you should visit! I am sure you will agree with me when I say that witnessing the Mono Lake south tufa towers is a one-of-a-kind experience. I hope this guide encourages you to plan an epic visit to Mono Lake south tufa, Travertine Hot Springs, and Black Point Fissures!